Something for street art lovers- check out how brands use murals for advertising.
OK, so I think everyone agrees that THIS isn't cool at all. So many advertisments just completly destory public space and make the city super ugly. They are not even serving one's purpose cause nobody won't notice any of them for longer.

Advertisment has sense only if it's effective. It should cause positive impressions and be remarkable.
So what about creating hand-painted billboards on city walls? 

What ? 
Street Murals are unique, hand-painted art-centric brand advertising billboards on permitted wall space.
These combination of art and advertising is an unusual form of communiaction often used as part of an influencer marketing, public relations and/or content marketing initiatives.
Street Murals tend to be embraced by the public unlike traditional billboards or street-level advertising.
Why ?
Outdoor advertisment is the oldest type of marketing and murals are better, more creative and non-standard version of it.
Murals are eye-catching because they are created in a huge surfaces.
Murals are aimed to younger generation ( mostly Millenials).
Society has much more understanding and acceptance to murals because of accociation to modern art.
Instead of destroying city landscape painted billboards make it beautiful and intresting.
Murals are just much more cooler then traditional billboards.
How? 
Company who does murals hire professional artists,  illustrators, and designers. So I guess the main equipment needed are paints, brushes, rollers and other tools used to cover large areas.
Probably they also need an array of ladders and drop cloths, and a vehicle large enough to transport the tools of your trade.
 Source : http://www.goodlooking.pl/
Where? 
For example in Warsaw :)
This mural was sponsored by Dulux Colour and you can find it behind Novotel hotel in Nowogrodzka Street. The aim of this campaign was renovation of old and grey public spaces and bringing some colours. It's the biggest mural in Poland (2 000 m2).
Watch making of :
On behalf of the Warsaw City Promotion Department Goodlooking agency prepared a public information campaign commemorating the 200th anniversary of the birth of Frederic Chopin. They created 4 murals – two of which can still be seen at Tamka Street in Warsaw opposite the Frederic Chopin Museum.
Source : http://www.goodlooking.pl/

On the same street ( Tamka ) there was a mural sponsored by Coca-Cola celebrating 100th anniversary of the world's most famous glass bottle.
Costa-Coffe 1 birthday / Metro Centrum
Lana del Rey for H&M campaign 2014 / Politechnika Warszawa
Source : http://www.goodlooking.pl/
David Bowie Mural – His very own mural was revealed in April 2016 and you can find it in Żoliborz ( ul. Marii Kazimiera 1 ). The idea came up after his death in January. In April 1973 David Bowie was in Warsaw so this mural commemorates his visit 40 years ago. Money for this initiative was collected in crowdfunding webiste and the design was picked up in a competition.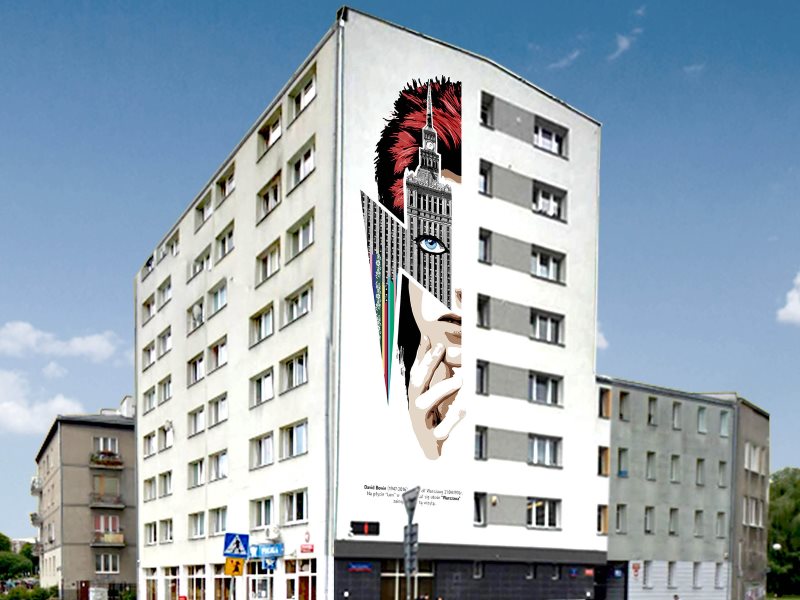 So what do you think about murals? Aren't they awesome! I hope there will more hand- painted billboards in our public space.